Quick Details
| | | | | | |
| --- | --- | --- | --- | --- | --- |
| Place of Origin: | Jiangsu China (Mainland) | Brand Name: | hanrui | Model Number: | hanrui |
| Application: | steel making, iron making | Shape: | round or oval shape | Material: | vanadium |
| Dimensions: | Major axis 35mm-40mm | Chemical Composition: | V>77.5%,N>15.5%,C<4%,P<0.01%,S<0.1%,Al<0.1% | standard: | GB VN12 VN16 |
| company type: | manufacturing and sales | feature: | high efficiency | description: | vanadium redox batteries |
Packaging & Delivery
| | |
| --- | --- |
| Packaging Detail: | there are two ways of packages: a, metal bucket weight: 100kg with 20 small bags whose weight is 5 kg inside the metal bucket. moisture proof b, Big braided bag weight: 1000kg with small bags whose weight is 5 kg inside moisture proof |
| Delivery Detail: | within one month as soon as possible |
Specifications
vanadium redox batteries, vanadium nitrogen
Conform to
Standard, VN12, VN16
GB/T19001-2008/ISO9001:2008
GB/T24001-2
HANRUI is professional company extract vanadium and produce vanadium redox batteries RV-066
1. Nantong Hanrui Industrial Co., Ltd. was founded in 2007 with total area of 25000 m2.
2. Our company possess large volume of natural vanadium resources .
3. Now our company has 40 sets of the advanced alloy production equipment.
4. The annual output of VNis 2400MT and 2000MT high purity vanadium.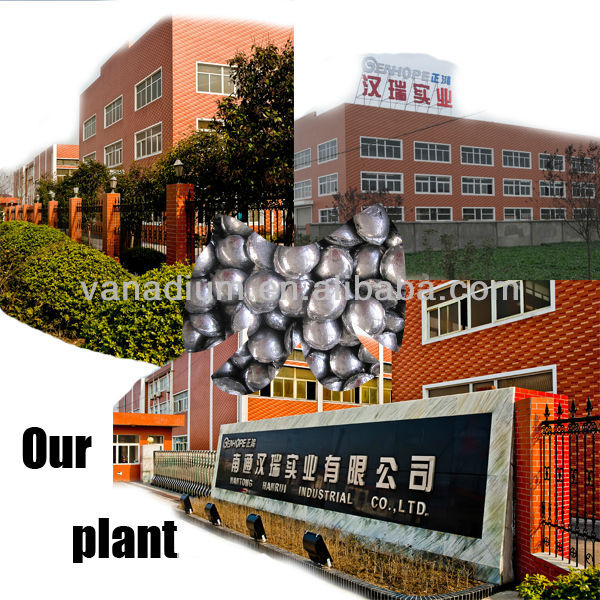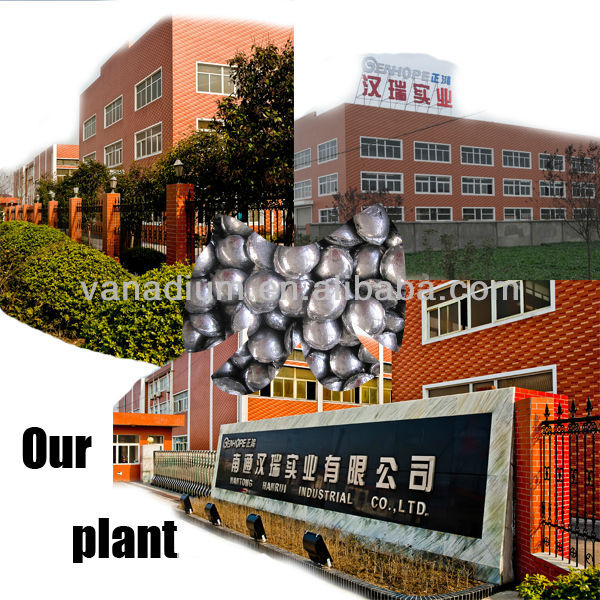 1 products information
1. Vanadium nitrogen is a addictive agent for iron and steel
2.VN can replac ferro-vanadium for steel-making.
3.Vanadium nitride could improve the strength, tenacity, ductility, thermal fatigue resistance and weldability
4.For reaching the same steel strength, adding vanadium nitride could save vanadium up to 30-40% and reduce costs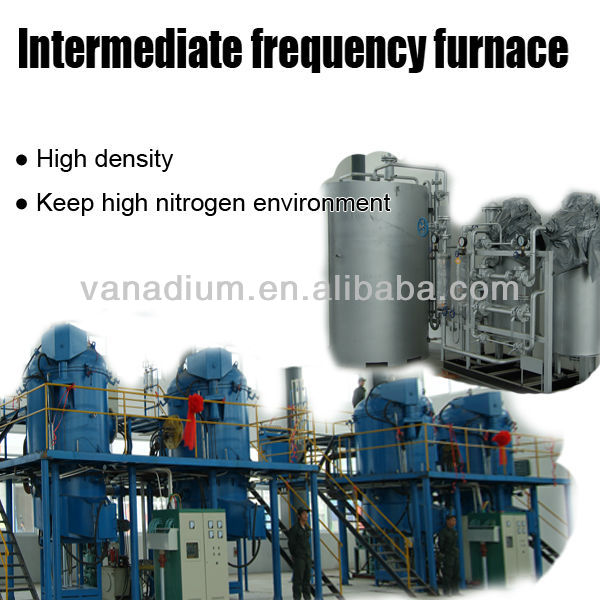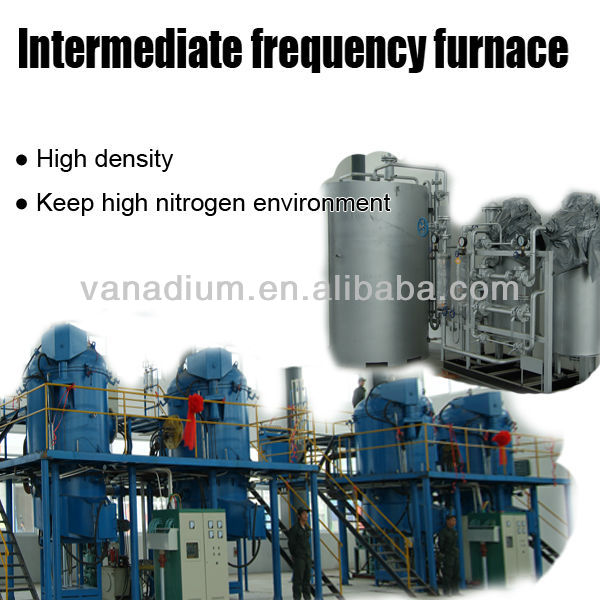 Advantage for vanadium nitride
| | |
| --- | --- |
| advantage | reason |
| Grain refinement and strengthening | Compared with VC, VN is better for the separation of V(C,N). |
| Reduce vanadium and lower cost | V(C,N)will cost fewer vanadium than that of VC, and this could reduce 40%, compared with Ferro-Vanadium. |
| Improve weldability, notch ductility and forgeability. | Use less carbon and less alloy addictive agent could reach the same strength level. |
| Effectively strengthening various carbon steel. | When temperature reach 1050 degrees Celsius, V(C,N) will have high solubility in austenite. Vanadium nitride work effectively in high, medium and low carbon steel. |
| Stain aging and shaping loss | Through choose Nitrovan 7 or Nitrovan 12, the proportion of V and N could be selected, avoiding nomadic nitrogen. |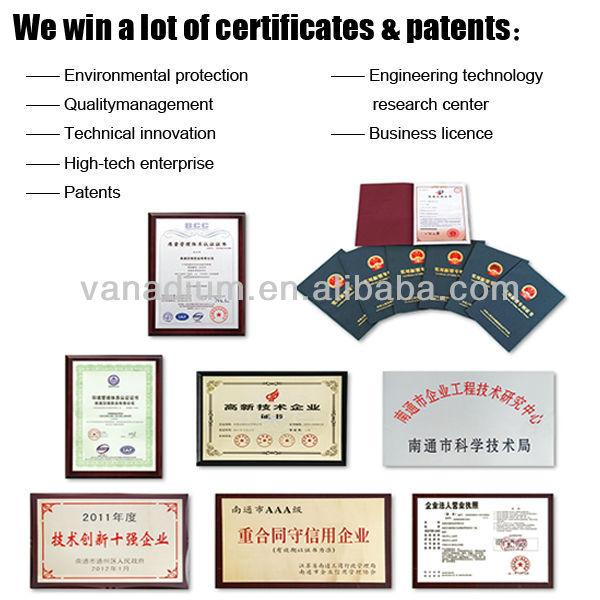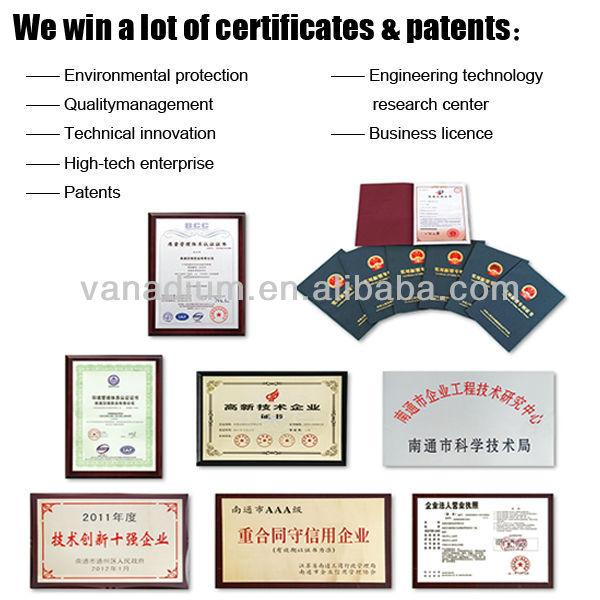 products standard
Brands

Composition(W/W)%

V

N

C

P

S

VN12

77-81

10.0~<14.0

≤10.0

≤0.06

≤0.10

VN16

14.0~18.0

≤6.0
2 manufacturing ability
Nantong hanrui industrial co., ltd. adopt medium frequency induction shaft kiln equipment.
we are able to control the suitable nitrogen pressure precisely.
the nitrogen in the vanadium nitride alloy is guaranteed.
the extraction of vanadium has been improved with alkali lye aided by microwave.
adopt the dry blank technology without adhesive, reduce the evaporation, increase the density of the vanadium nitrogen alloy.
the infiltration of nitrogen is even
adopt synchronous technology of carbonization and nitridation, enhance productivity.
3 comparison with Ferro- Vanadium
1.Vanadium is import ingredient in high-strength steel, and always exists in stable nitrogen and carbon compounds.
2. Nitrogen could improve the seperation of vanadium and make best use of vanadium.
3. Vanadium nitride alloy becomes import way of strengthing the iron and steel
4. VN could reduce the volume of iron and steel in construction field and lighten the weight of cars.
5. vanadium nitride could help upgrade the screw steel to screw steel.
6. vanadium nitrogen alloy could save energy and reduce cost.
7. The strength of iron and steel could improve 6Mpa with every more 10ppm nitrogen added in the iron mixed with vanadium.
8. the traditional method of increasing nitrogen is expensive, complicated, low absorption and unstable.
9. The technology of vanadium nitrogen alloy could improve the absorption rate of vanadium, lower cost for steelmaking.
4 How to use vanadium nitrogen
During steelmaking, the procedure of adding vanadium nitrogen is the same with the way of adding ferro-vanadium.
1. As for converter steelmaking, if without vacuum treatment, please add deoxidizer(e.g. Al Si Fe),Ferromanganese and vanadium nitrogen alloy to the molten steel in the steel ladle in turn during steel Tapping period.
2. In order to gain maximum return, vanadium nitrogen should be added in to the steel ladle directly during 1/3 steel Tapping period and should be finished before 3/4 steel tapping period.
3. After steel tapping period, blow argon to stir and to make sure that the vanadium nitrogen is fully melted.
4. Please do not add vanadium nitrogen under vacuum circumstance.

5 Packing details